Tofu Burger
Ingredients
Step

1

Step

2

Step

3

Step

4

Step

5

Step

6

Step

7

Step

8

Step

9

Step

10

Step

11

Step

12

Step

13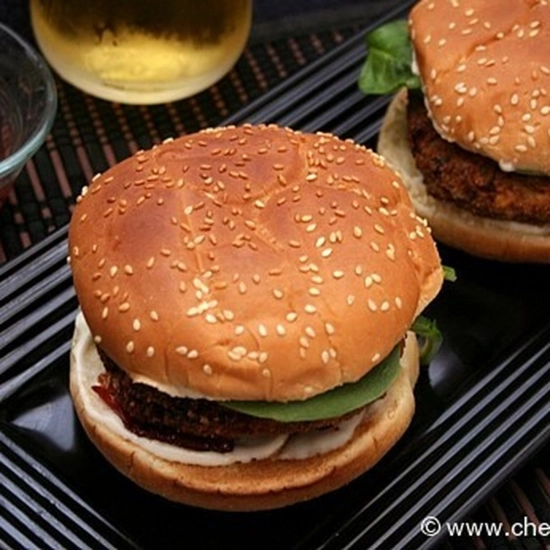 Calories: 493
Carbohydrate: 60 g
Protein: 17 g
Fat: 21 g
Cook time: minutes
Prep time: minutes
Total time: 0 minutes
Servings: 6
TAGS
Vegetarian
tofu
burger
Vegetable
Sandwich
fry
cilantro
Breadcrumb
Vinegar
arugula
Vegetarian
Breadcrumb
tofu
Vegetable
burger
Vinegar
Sandwich
arugula
cilantro
fry
Vegetarian
Breadcrumb
tofu
Vegetable
burger
Vinegar
Sandwich
arugula
cilantro
fry
Vegetarian
Breadcrumb
tofu
Vegetable
burger
Vinegar
Sandwich
arugula
cilantro
fry
Directions
Step

1

In a pan, heat about a tsp of olive oil and sauce the onions until soft. Add the mushrooms and cook for another 3-4 minutes and cool slightly.

Step

2

In a food processor, blend 250 gms (8 oz) of the tofu with garlic and cilantro. Or you can use basil

Step

3

Blend until smooth. Transfer this to a bowl and add in the mushroom mixture, breadcrumbs, tomato paste, vinegar and chilli sauce. Grate the remaining tofu and add it to this mixture. Mix and refrigerate for about 30 minutes.

Step

4

Divide to 6 patties and coat them with bread crumbs. fry them on both sides in Olive oil until golden.

Step

5

Assemble them into rolls that are spread with Mayo, some sun dried tomatoes in oil, spinach/Arugula and serve with chilli sauce.