Green mango salad with prawns
Ingredients
Step

1

2 tbsp lime juice

Step

2

1 small red chilli , seeded and finely chopped

Step

3

2 tbsp fish sauce

Step

4

1 tbsp light muscovado sugar

Step

5

3 shallots , finely sliced

Step

6

85g roasted salted peanuts , finely chopped

Step

7

2 green mangoes or 3 Granny Smith apples

Step

8

2 tbsp chopped mint

Step

9

1 tbsp sunflower oil

Step

10

200g pack raw shell-on headless prawn , peeled but with tail on (or, if you use ready peeled prawns, you need 175g/6oz)

Step

11

2 little gem lettuces

Step

12

2 spring onions , shredded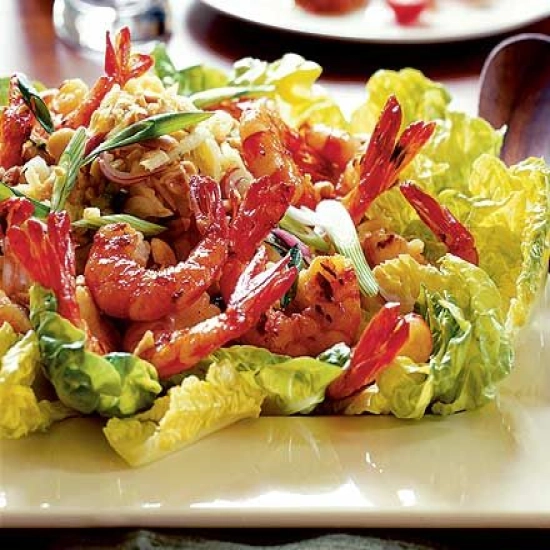 Calories: 176
Carbohydrate: 12 g
Protein: 10 g
Fat: 10 g
Cook time: 25 minutes
Prep time: minutes
Total time: 25 minutes
Servings: 6
TAGS
Dinner
Thai
10-30 minute
200 kcal or less
6 serving
Granny smith apple
Green mango
Green mango
Main
Mary Cadogan
Prawn
Prawn
Quick
salad
Seafood
Spring onion
Spring onion
Thai food
Directions
Step

1

Mix together the lime juice, chilli, fish sauce and sugar in a large bowl. Add the shallots and three quarters of the peanuts and mix well. Cover and set aside for up to 4 hours.

Step

2

Peel and coarsely grate the mango or apple, and stir into the mixture along with the mint. Heat the oil in a frying pan or wok, add the prawns and stir fry quickly until evenly pink - about 2 minutes.

Step

3

Scatter the lettuce leaves on a serving plate and spoon the salad mixture in the centre. Surround with the prawns and scatter over the remaining peanuts and spring onions.